And the Caddies Keep on Coming: 1978 Coupe DeVille!
Everybody's got that one car that just does it for them. And often, these cars have subtle variants that make ownership of more than one necessary. Some people collect tri-year Chevrolet Bel Airs, while others collect tri-year Ford Thunderbirds. Not me, though. I can't resist nor explain the tacky charm of a "tri-year" baby Cadillac.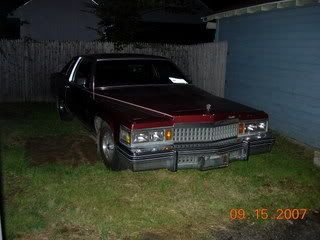 It's all Big Red's fault. My beloved and long gone Firethorn Red 1979 Coupe DeVille is the reason I can't get past my love of the first generation of the "baby" (1977-1979) Cadillac Coupe DeVilles. And with the purchase of this very rough around the edges Ruidoso Saddle Polycoat 1978 model, I have now owned one of all three years. Purchased on a whim (and a desperate need for parts that are not in any way reproduced) last Saturday night in Warwick, Rhode Island for $400, I can't say enough about the things I like about the car. The interior is in decent shape and most everything works, right down to the eight-track player; this was proven as the car came with a complimentary copy of Jimi Hendrix's Smash Hits under the seat! The car has a lot of good things to donate to the cause of the mild restification of my Naples Yellow 1977 Coupe DeVille. The car runs and drives decent, and most of its 94,000 miles were highway, as it was used by the previous owner for frequent runs between Warwick, Rhode Island and Buffalo, New York. I plan to swap all of its good parts onto the '77 before the bad weather sets in, and swap all of the '77's lesser parts back onto this car before sending it on its way to the highest bidder, so it's as complete as possible after taking all the parts off of it that I want or need.